Jazzvibe.com
-
Est. 1999
Mike Freeman Vibraphonist Composer, Jazz Vibe,
ZonaVibe, Vibe Caliente, VOF Recordings, ZV Studio
Omaha - Chicago - New York
Celebrating 40 years in Manhattan, NYC!


Photo by Jerry Lacay


Mike Freeman ZonaVibe - Boricua Blues
2022 Free Concerts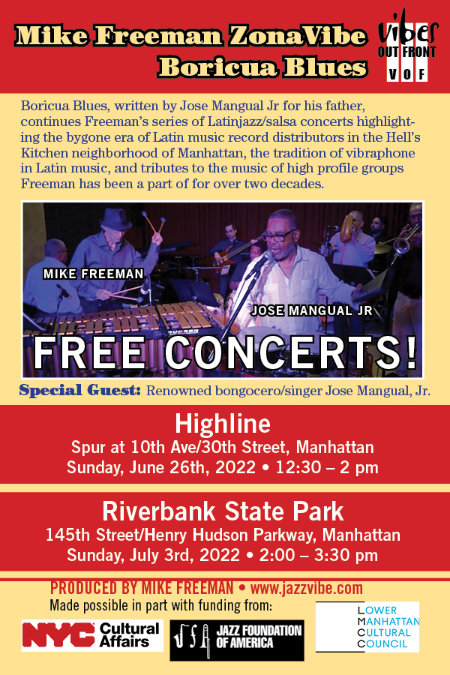 Boricua Blues, written by Jose Mangual Jr for his father, continues Freeman's series of Latinjazz/salsa concerts highlighting the bygone era of Latin music record distributors in the Hell's Kitchen neighborhood of Manhattan, the tradition of vibraphone in Latin music, and tributes to the music of high profile groups Freeman has been a part of for over two decades.

Highline
Spur 10th ave/30th street, Manhattan
Sunday June 26, 2022
12:30 - 2 pm
Spur moves to Coach Passage if rain

Riverbank State Park
145th street/Henry Hudson Pkwy, Manhattan
Sunday July 3, 2022
2:00-3:30 pm
Outdoors moves indoors in case of rain
Guido Gonzalez - Trumpet, Gabriel Vivas - Bass, Roberto Quintero - Congas, Joel Mateo - Drums, Jose Mangual Jr - Vocals, JR DeJesus - Piano, Luis Soto - Coro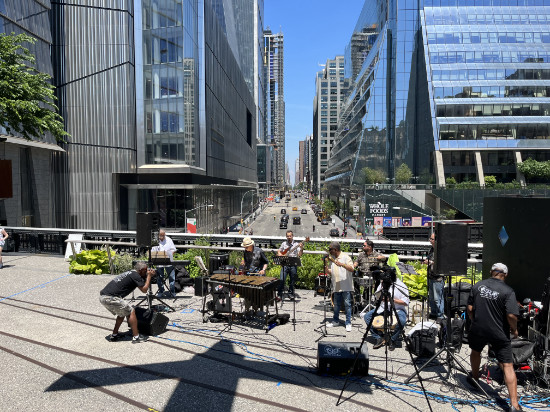 _______________________________________________
LMCC Grant Recipient 2019, 2021 & 2022
Mike Freeman ZonaVibe - Boricua Blues
Hell's Kitchen Soul Sauce - Latin Music in Hell's Kitchen, A History
________________________
Book This Hit Show!
"Great music and a history lesson too!"
"My friends, and I were blown away by your concert tonight!"
"Congratulations on a very well conceived and executed project"
"That was fantastic!"
Produced by Mike Freeman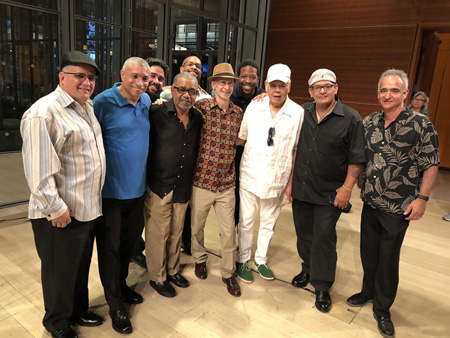 For over thirty years, numerous Latin music record distributors dotted the landscape of 10th Avenue from 42nd to 52nd streets. This concert production focuses on the once-vibrant Latin music record industry that no longer exists in Hell's Kitchen as well as the tradition of the vibraphone in Latin music. Legendary guests, historical commentary, and photograph displays.

_______________
Coming Soon
Circles In A Yellow Room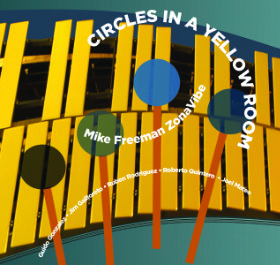 _______________
Now More Than Ever,
Musicians Need Your Support For The Music They Create and Record!
mikeTunes CD Sale Page, great deals on overstock and legacy items!

Now Available to Listen, Buy, and Follow on Bandcamp

Venetian Blinds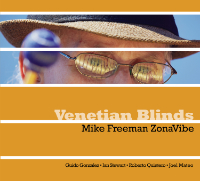 "frost-fresh…with off-beat rhythms driven hard", Latinjazznet Sept. 27, 2018 –Raul da Gama

"MOST HIGHLY RECOMMENDED, with an "EQ" (energy quotient) rating of 4.98"
Contemporary Fusion Reviews August 10, 2018 –Dick Metcalf

"Swinging sounds that are reminiscent of vintage Cal Tjader sessions…irresistible grooves. Oye!" Jazz Weekly November 1, 2018 –George Harris


Mike Freeman ZonaVibe at
iTunes - Apple Music



Amazon, and many other sites

Connect with Mike

Bandcamp
Spotify
Youtube

Facebook1

Facebook2

Twitter

Linkedin


Be sure to sign up for our email list, it's used sparingly!


Mike Freeman web site copyright © 1997, 2008, 2015, 2019
Site designed by Mike Freeman and Anne Haas