December/27/2015 16:57
Wow 2015 is closing out with a bang! Blue Tjade was released 12-22-15 and now a nice looking update to the Jazzvibe web site! I like the look and feel so of this so much I think I might actually blog here more regularly from now on!
December/23/2015 15:00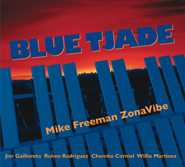 Mike Freeman ZonaVibe "Blue Tjade", a tip of the hat to Cal Tjader, is officially released today!
Featuring Jim Gailloreto, Ruben Rodriguez, Chembo Corniel, and Willie Martinez