*Note
- New York State Residents,
Do Not
make a purchase from this Web Site at this time! Please make your purchase at one of the many other web sites the CD is available at. Thanks for your help in this regard and sorry for the inconvenience.
Credit Card payments with PayPal - it's fast, free and secure!
US shipping and handling
$3.50 one item
$4.00 two items
*International shipping $15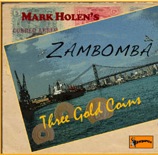 Mark Holen Zambomba
Three Gold Coins, 2009
CD playing time 54 minutes
Available on CD-R only
with jewell case and artwork
Mark Holen - Executive Producer
Mike Freeman - Producer
Songs on this CD include:
1. Three Gold Coins
2. Los Countertulios
3. The Last in Line!
4. Mirage
5. Flute'n the Mozambique
6. Me Suena Albeniz
7. Los Aires de Veracruz
8. Swing'n With Some BBQ
Mike Freeman - Vibraphone
Andy Drelles - Alto Sax, Flute & Bass Clarinet
Tom Murray - Flute & Alto Sax
John Loerke - Bass
Mark Holen - Composer, Drums, & Percussion
Rex Benincasa - Percussion