***Sale!
Mike Freeman Wiggle Stomp
VOF Recordings, 2000
CD playing time 56 minutes
US shipping and handling
$4.50 one item, add .50 cents per additional item
*International shipping $16, add $1 per additional item
4 Stars Allmusicguide.com
Charted on Gavin Jazz Chart, On nationally syndicated "Jazz After Hours", Featured on the "Joey Reynolds Show" WOR-AM radio network
Songs on this CD include:
1. Wiggle Stomp-in
2. Floating
3. Last Wave
4. Dockside
5. Glow Fuel
6. Rain
7. Mint Tea
8. Omaha Freeload
9. A Breeze
10. Jasper
11. Marble Race
12. Wiggle Stomp-out
Wiggle in and stomp around, this CD crosses the borders of Latin jazz, Brazilian, calypso, and jazz. Featuring firey percussion performances from Ed Uribe, Jorge Jimenez and Harry Adorno, along with the acoustic bass of Harvie Swartz, the return of Kip Reed (from Mike's nationally recognized Street Shuffle CD) on electric bass, longtime associate Bruce Saunders playing guitars, and the saxophone of Dave Peterson (this marking the first time Mike and Dave, who grew up less than a mile apart from each other in Omaha, NE, have recorded together).
Highlights include the scorching Latin jazz of "Glow Fuel"; the hit Brazilian samba "Last Wave", a tribute to Antonio Carlos Jobim; the beautiful jazz ballad "Rain"; the brisk calypso "A Breeze"; and the lazy bluesy swing of "Omaha Freeload".
MFZV Ornament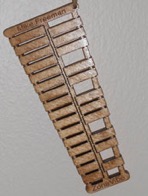 actual size aprox. 5"